Volunteer With 4-H
Find this page at:
go.ncsu.edu/readext?668121
Mitchell County 4-H Needs You!
Volunteers are the key to success in the Mitchell County 4-H program. Whether you're interested in starting a club and becoming a club leader or just have a few hours to invest in upcoming 4-H programs, we have challenging and fun jobs for adults and teens who want to make a difference.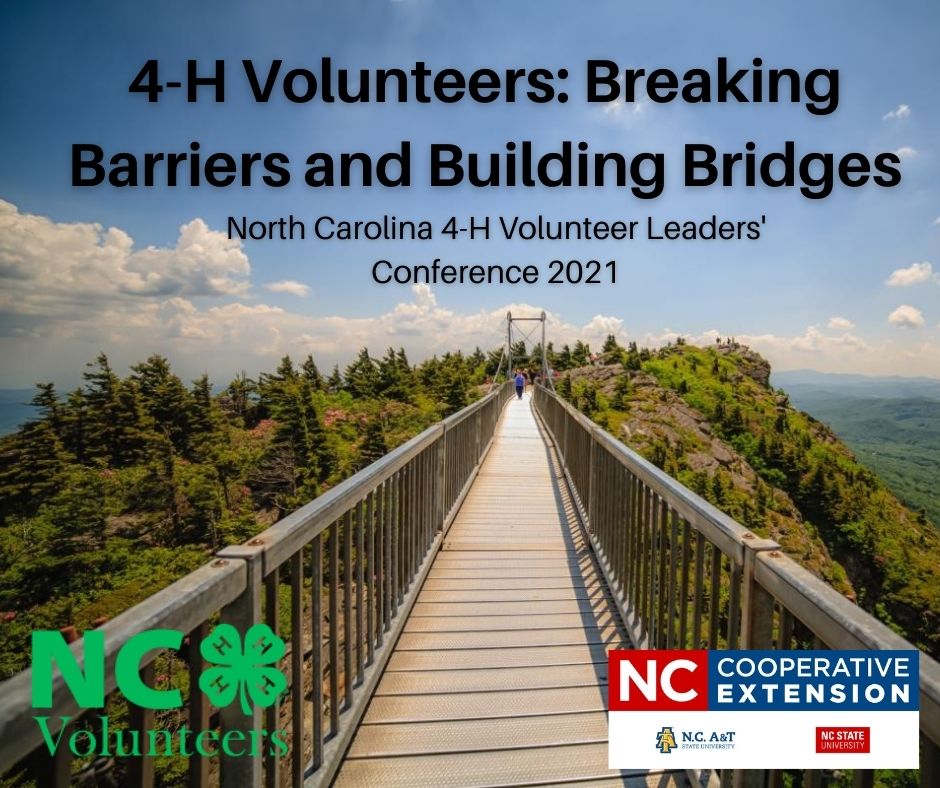 The North Carolina 4-H Volunteer Leaders Conference is right around the corner. This year's event will be held February 5-6 via Zoom. Cost for the Volunteer Leaders' Conference 2021 is $30 and, to be guaranteed a conference packet, registration must be entered by January 8th. Registration will remain open through January 27th; however, those who register after the initial deadline of January 8th will most likely not receive a conference packet or Friday night pre-conference supplies.
The conference agenda is being updated as more information is received, so please check often to see the latest related to Volunteer Leaders' Conference 2021. You do not have to pre-register for a workshop on Saturday. You can attend whichever workshop you like on Saturday, February 6th. Links to all sessions will be shared with registered conference participants the week of the conference. In addition, it is hoped (fingers crossed) to have all sessions recorded, transcribed, and placed in a Google Folder so conference participants will have access and watch any/all sessions in which they didn't participate.
For the Friday night "Experience 4-H Curriculum" session, you will need to pre-register for this session. There are four great options and information on each of these sessions can be found on the conference agenda here. If a workshop has supplies to send participants and you register by January 8th, those supplies will be mailed to you.
The registration process must be completed online by the Extension 4-H Agent  The paper copy registration form is provided for participants to complete and submit to the Mitchell County Extension Center (along with a $30 check made payable to Mitchell County General Fund) Remember, the deadline is January 8th in order to qualify to receive any supplies.
4-H Virtual Volunteer Conversations
Dates: 01/26, 04/27, 07/27, and 11/30 at 6:00 p.m. CST.
The volunteer specialists of the southern region will be hosting quarterly virtual volunteer conversations for our leaders to share ideas, build regional connections, and learn from other volunteers throughout the country. This program is open to all 4-H volunteers and professionals.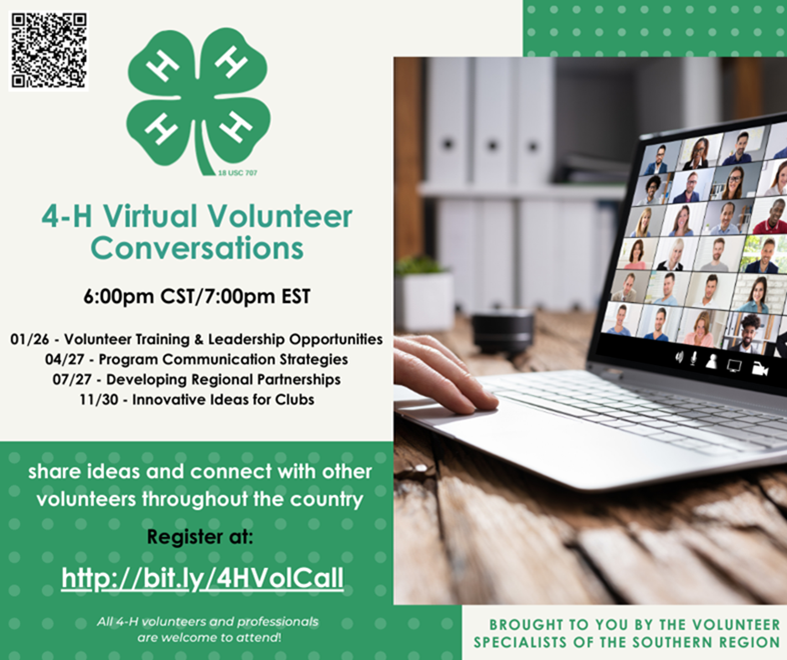 4‑H EMPOWERS YOUTH WITH THE SKILLS TO LEAD FOR A LIFETIME
In 4‑H, we believe in the power of young people. We see that every child has valuable strengths and real influence to improve the world around us. Through non-formal, research-based, and hands-on educational activities, 4-H participants gain knowledge and life skills enabling them to become positive, productive, capable, and compassionate members of their communities. 4-H provides opportunities for youth ages 5-18 years old.
Program Areas
STEM (Science, Technology, Engineering, and Math)
Agriculture
Healthy Living
Citizenship
Are you interested in volunteering but need ideas for programming? Check out the 4-H Activity Guide!
Become a 4-H Volunteer Today!
Please Note: All 4-H volunteers who work directly with youth in any unsupervised capacity (i.e. club leaders chaperones, etc.) are required to complete and pass a background check and have a current Volunteer Application on file with their local 4-H office.
NC State University and N.C. A&T State University commit themselves to positive action to secure equal opportunity and prohibit discrimination and harassment regardless of age, color, disability, family and marital status, genetic information, national origin, political beliefs, race, religion, sexual identity (including pregnancy) and veteran status. NC State, N.C. A&T, U.S. Department of Agriculture, and local governments cooperating.