Mitchell Giving Gardens
Find this page at:
go.ncsu.edu/readext?726960
On August 31, a small group of volunteers led by a team from The Quartz Corp built 16 raised garden beds for a community garden in Spruce Pine. The garden joins the many existing "gardens that give" in Western North Carolina, which share food without cost to people in their communities and help people raise their own fruit and vegetables.
Conversations about Mitchell Giving Gardens began in fall of 2019, when a group of community members gathered around a common goal: bringing people together to grow and share food locally. The organizers believe that everyone in Mitchell County should have access to fresh and healthy food, and that growing and sharing food together can make our communities stronger. Produce from the garden will be distributed through existing organizations such as food banks. Mitchell County Cooperative Extension is coordinating the county-wide initiative, with technical assistance from the MAY Coalition. Dig In! Yancey Community Garden is sharing what they've learned and participating in community meetings and design events.
The garden beds are located at the west end of Riverside Park, in a site that the Spruce Pine town council unanimously approved for this use last February. Construction was one of this year's Quartz Corp volunteer projects. Quartz Corp provided materials, equipment, and expertise, and volunteers from the community also participated. For more information and to get involved, please contact
Eve Kindley
at 828.688.4811.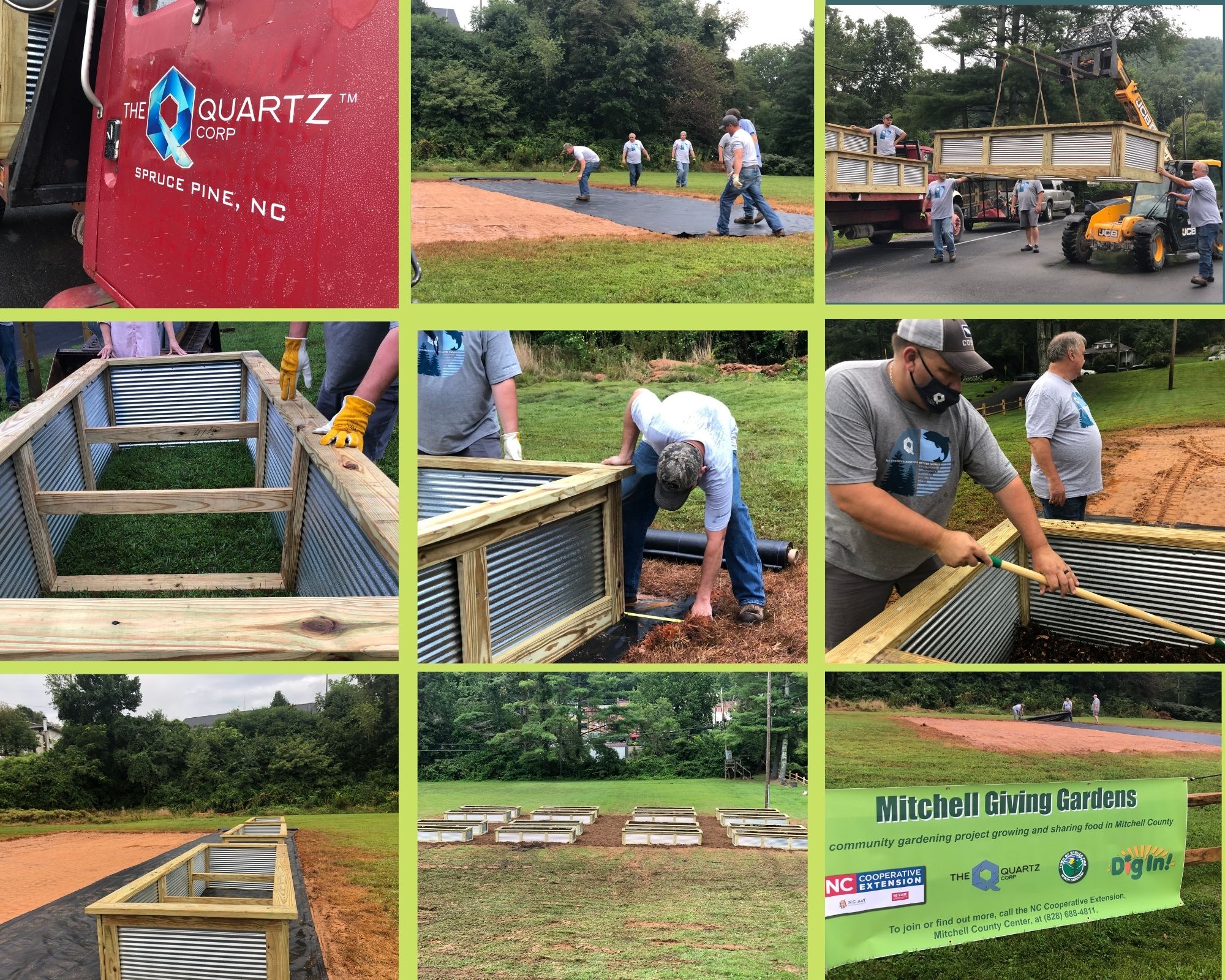 Mitchell Dando Jardines
Todos los que se preocupan por cultivar, compartir, cocinar y comer alimentos en el condado de Mitchell están invitados para ayudar a dar forma al futuro de Mitchell Giving Gardens, un nuevo proyecto de jardinería comunitaria coordinado por N.C. Cooperative Extension, Mitchell County Center. Su propósito es crear y compartir alimentos sin costo para las personas en nuestro condado y ayudar a las personas a criar sus propias fruta y verduras. Los productos del jardín se distribuirán a través de las organizaciones existentes como los bancos de alimentos locales.
El jardín es joven y crece rápido, con mucha ayuda de amigos y vecinos. Sus dieciséis camas elevadas permanentes fueron instaladas en el extremo oeste del Parque Riverside de Spruce Pine el 31 de agosto de 2020, después de menos de un año de organización popular. La ciudad de Spruce Pine dio permiso para que el sitio se utilizara en febrero, y la construcción de las camas fue uno de los proyectos voluntarios de este año de la empresa Quartz Corp. El diseño de las camas se basa en las del Jardín Comunitario Avery County Cooperative Extension Center, y proporcionan más de setecientos pies cuadrados de espacio de crecimiento. La Coalición MAY está proporcionando asistencia técnica, y Dig In! Yancey Community Garden está compartiendo lo que han aprendido.
Creemos que todos en el Condado de Mitchell deben tener acceso a alimentos frescos y saludables, y que cultivar y compartir alimentos juntos puede hacer que nuestras comunidades sean más fuertes. Desde la planificación y sacar la palabra, hasta la siembra y la cosecha, hay muchas maneras de involucrarse. ¡queremos escuchar de ti! Para obtener más información, envíe un correo electrónico a Eve Kindley (Emkindle@ncsu.edu) o llama al 828. 688.4811.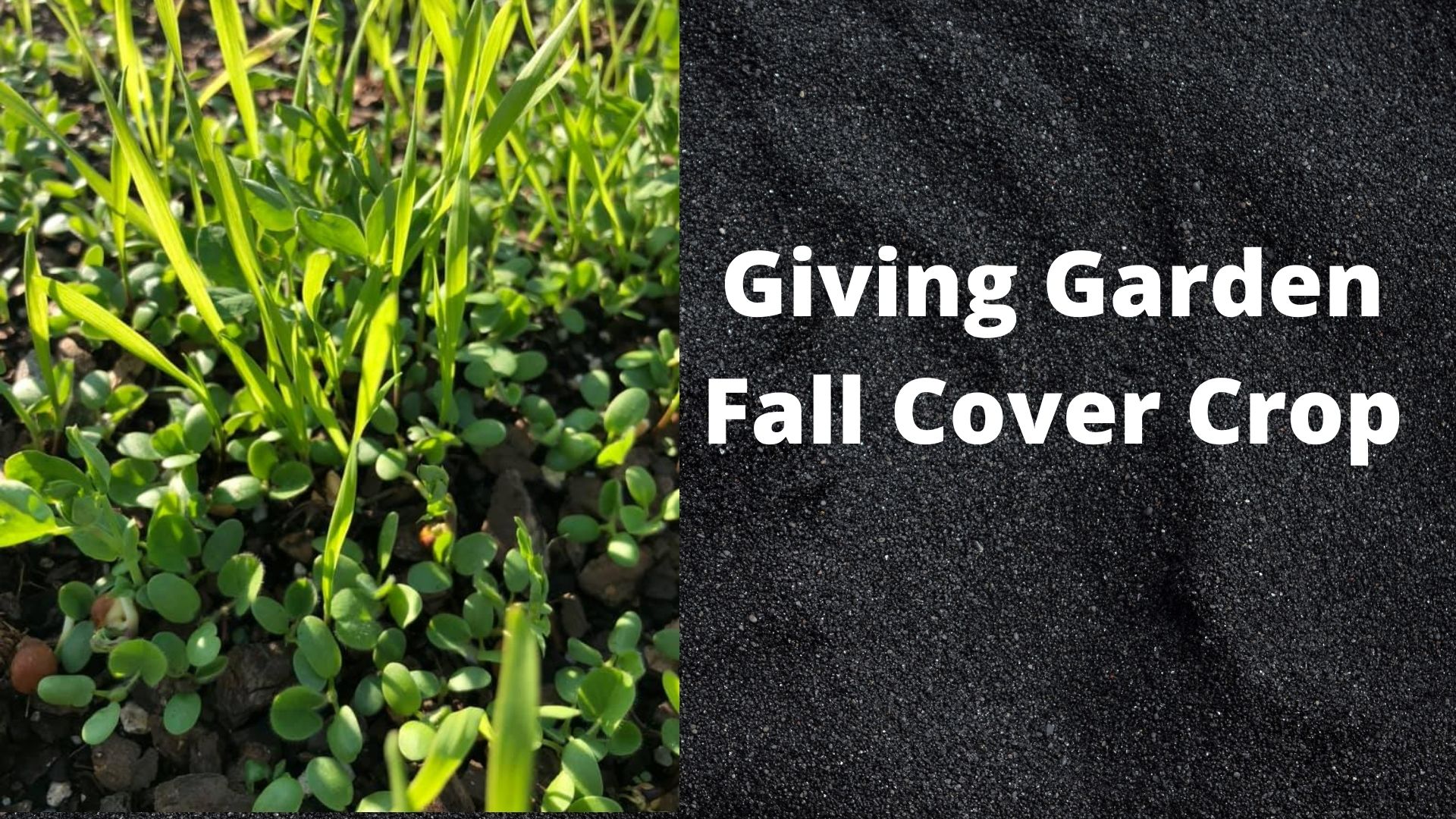 Thanks to the fantastic, hardworking, and dependable Mitchell Giving Gardens volunteers for installing hoops and fabric to help extend the growing season! And look at the cover crop of flax, winter wheat, Austrian Winter Pea! It'll prove helpful later!