Toe-Can Beekeepers Association Meeting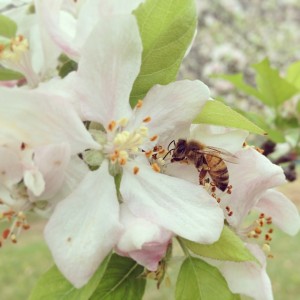 Want your yard and land to benefit all kinds of bees, butterflies and songbirds for decades to come?
Join us Tuesday, April 26, 2016 at 6:30 p.m. for a potluck meeting! Leigh Knott of Five Apple Farm will speak on planting pollinator shrubs and trees. There will be a brief update and handout on Epi-pen safety too. Everyone is welcome — beekeepers, gardeners, bird and butterfly enthusiasts. Bring a dish to share if you can but come hungry.
The Toe-cane Beekeepers Association meets fourth Tuesdays, 6:30 p.m. at the United Community Bank in Burnsville at the intersection of 19E and HWY 197 across from Glen Raven. There is a wealth and variety of beekeeping experience in the group (conventional, natural/organic, commercial) — help and mentoring are available for new beekeepers of all kinds.